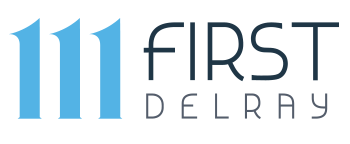 FOR: SOFA PARTNERS
 Media Contact:
Howard R. Miller
305-573-0882
FOR IMMEDIATE RELEASE: 
SOFA Partners Celebrate Breaking Ground At 111 First Delray With Dignitaries And Brunch                   
Delray Beach, FL – November 6, 2017 – Sofa Partners, a South Florida real estate and development firm, broke ground during a ceremony held November 2nd at  111 First Delray, a signature new residential project in the heart of the arts and entertainment district. At the gala event, hard hats, golden shovels, and construction equipment surrounded dignitaries of the Delray Beach Chamber of Commerce, developers, and city officials as they marked a milestone in local history.
Delray Mayor Cary Goldstein and Felipe Vergara of Sofa Partners spoke to the crowd, along with Vin Nolan, Executive Director of the Delray Chamber of Commerce. Working with the Delray Beach Chamber of Commerce for the occasion, the developers, and Nestler Poletto Sotheby's International Realty sales team hosted realtors as well as community and business leaders at the sales center for a delicious brunch after the groundbreaking ceremony event, where Vice-Mayor Jim Chard was the guest speaker.
"We are pleased to have started construction and anticipate completion in early 2019,  as the season begins," said Developer Felipe Vergara. "This luxury condominium will provide a unique product and lifestyle, unmatched in the marketplace, all set in the center of this vibrant neighborhood."
The property, located at 111 SE 1st Avenue one block south of Atlantic Avenue, sits on a 1.12-acre parcel and will bring contemporary urban living to downtown Delray Beach. The 70-unit condominium gives residents access to modern design and upscale appeal with floor plans ranging from one, two, and three-bedroom units. All units include luxurious standard features such as Bosch appliances, wood-look Spanish porcelain plank flooring, quartz countertops, the latest smart-home technology and security, and private storage space.
Community amenities are impressive, ranging from a 5th floor state-of-the-art gym to a beautifully landscaped pool deck with cabanas, lounge chairs, a fire pit, and a covered, open air club room which has TVs, a bar, summer kitchens, and a pool table. Additional features include excellent resident and guest parking, private balconies (select units offer private roof decks with 360-degree views), integrated home automation, lightning fast internet speeds, bicycle storage, and low HOA dues. 
"SOFA" refers to the two blocks south of Atlantic Avenue from Federal Highway to Swinton Avenue. The district is undergoing a renaissance and Atlantic Avenue is at the forefront with its burgeoning reputation as an arts and entertainment hub. Due to its convenient location, 111 First Delray residents will be able to take a short relaxing stroll to enjoy the many delights Delray Beach is famous for such as award-winning cafes and restaurants, unique art galleries, entertainment venues, boutiques, and of course, the crystal-clear Atlantic Ocean with one of the premier beaches in Florida. 
The Developer of 111 First Delray is Sofa Partners, a development group led by two father-son teams, Manuel and Felipe Vergara, and Rafael and Daniel Rincon, in which Felipe and Daniel team up to oversee and manage operations. Collectively, the Vergaras and Rincons have over 70 years of development experience in Colombia across a comprehensive range of asset classes including residential, office, and retail. To ensure the success of the project, Sofa Partners has assembled an all-star team of professionals, including George Ligeti of The Greenfield Group and Paul Kilgallon of Mainstreet Capital Partners. Each brings an extensive array of business acumen and general management experience to the table, as well as a thorough knowledge of the construction industry in South Florida. Further sourcing the best talent, Sofa has contracted with Richard Jones Architecture and Carrie Leigh Designs, two award-winning boutique firms known for their ability to enhance living spaces through high-quality design. Current Builders is the general contractor, with 44 years in business and a ranking of 9th largest residential contractor in Florida. Lastly, Sofa has retained Nestler Poletto Sotheby's International Realty, the region's preeminent residential brokerage firm, known for representing only the most exclusive properties, to lead the sales efforts.
Priced from the $400ks, 111 First Delray  is selling at an unprecedented rate and prices are expected to rise after this groundbreaking. Take advantage of the momentum now to invest in the ultimate Delray-Centric lifestyle at 111 First Delray.
For more information about Sofa Partners and 111 First Delray floor plans, visit https://www.111firstdelray.com/.
###