[Update: Application closed] Downtown Delray Business Relief Assistance Grant — Due to the results of the COVID-19 Executive Orders, all non-essential businesses and restaurants within Downtown Delray Beach had been forced to close or change their operation to provide curbside pickup or delivery service. Downtown Delray Beach is home to over 96% small businesses making up the fabric of the community. Many of these businesses have been along Atlantic Avenue for over 10 years and are now facing an unprecedented crisis.
The Downtown Development Authority has designated $30,000 to assist small storefront businesses within the DDA district that have been impacted by the COVID-19 pandemic. The Downtown Delray Local Business Relief Grant Assistance program will award up to 30 businesses $1,000 grants. Administered and funded by the Downtown Development Authority, these grants are designed to serve as flexible emergency funding in an effort to assist with retaining as many small storefronts, for-profit businesses including retail, gallery, independent restaurant, or retail service business with a physical location within downtown Delray Beach customarily open for customers/patrons. Grant criteria include the small business being open and operating for over five years, have 25 employees or less, and be locally owned and operated. Grant awards to individual businesses shall not exceed $1,000. The online application will go live on June 16, 2020, at 8 a.m. and the deadline for submission is 11:59 p.m. on June 17, 2020.
The Business must meet the criteria below to be eligible to apply:
-     Own a storefront business within the DDA district that qualifies as a "small business" (25 employees or less)
*Business owners with multiple locations within the Downtown Delray district may submit one application for each site. A separate application must be submitted for each location.
-       Business Type: For-profit, retail, gallery, independent restaurant with a physical location within the downtown & customarily open for customers/patrons
-       Open and Operating within the district for over 5 years (Business Tax Receipt, BTR, or other proof of operations, proof of business's state license (Sunbiz), and W-9 must be provided)
-       Be locally owned (owner to reside in Palm Beach County)
-       Lost ability to operate due to COVID-19 public health requirements OR demonstrate that the COVID-19 outbreak caused a minimum 50% decline in revenues since March 13, 2020 (using average revenue for the same two-month period in 2019 and/or average monthly revenue based on total 2019 revenue).
-       Have no outstanding liens or legal judgments
-       Demonstrate the desire to continue operations and have applied for federal relief provided
Submitted applications will be reviewed based on timestamp received, and 30 qualified businesses will each be awarded a $1,000 grant by June 19, 2020. Grants recipients must provide the DDA with proof of how the funds were used within 60 days of receipt of the grant funds.
Questions regarding the grant should be emailed to grant@downtowndelraybeach.com
PDF documents you will need to complete your form:
Business Tax Receipt (or other proof of years in operations as a business/organization)
Proof of business's state business license (Sunbiz)
W-9 Form
Proof of decline in revenue
DOWNTOWN DELRAY BEACH BUSINESS DISTRICT MAP (click to enlarge):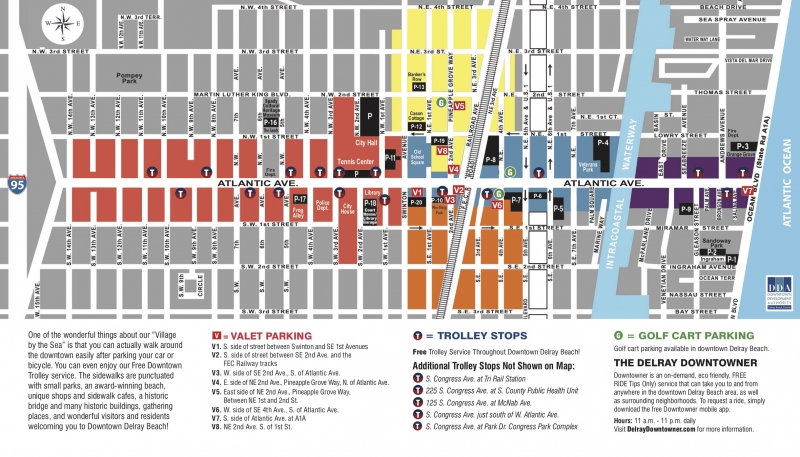 ---
We strongly urge interested businesses to take the weekend to review the application criteria, gather any necessary supporting documents you will need, and take a look at the SAMPLE APPLICATION prior to the application going live.
 If you have any questions, please reach out to grant@downtowndelraybeach.com and we can assist you.
THE APPLICATION IS NOW CLOSED. PLEASE CHECK BACK FOR POTENTIAL FUTURE GRANT OPPORTUNITIES.